About

KANON,
Tokachi Confectionery Atelier
KANON, a confectionery atelier, was established in Tokachi, Hokkaido, in 2010. To promote and convey the local ingredients, it makes and sells sweets, mainly frosted cookies, that are visually attractive. Since 2019, it has been presenting its highly artistic confectionery and food products to the world. KANON aims to facilitate international exchanges through the art of making sweets.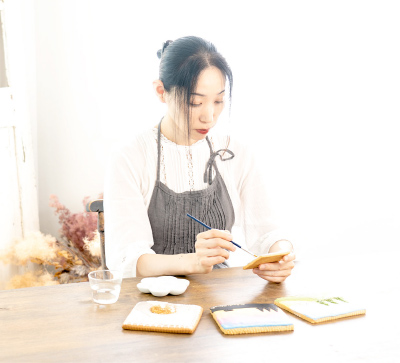 KOHGA, Shizuka
Art Food Creator
Born in Tokyo. She graduated from Chuo University. After working for a prominent mail-order company for 10 years, she moved to Hokkaido in 2005. She worked as an interviewer, a writer and an editor for magazines. She had experience in food production and sanitation management. In 2010, she established a confectionery atelier and produced beautifully-designed baked sweets and sold them at department stores in the Tokyo metropolitan area. Currently, as an art food creator, she is expanding her activities globally.
In March 2019, she participated in a PR event showcasing Tourism and Food of Japan sponsored by the Japanese Ministry of Foreign Affairs in Moscow. Her art food was introduced at the Japanese Embassy in Russia and other various places. In November, she participated in a meeting hosted by the Hokkaido government. Her art cookies were designated as an official gift of the Hokkaido Government and presented to St. Petersburg. In December, she donated her art cookies to the Embassy of Finland in Japan.
Art Food
Cast the magic of art on foodstuff.
"Pleasure of eating and sensing of beauty" is familiar to all people in the world. With the theme of "Taste the Arts," food creator Shizuka KOHGA spreads beautiful art food from Japan to the world, transcending language barriers.
Contact
KANON / Tokachi Confectionery Atelier
4-14, east 11,south 15, Obihiro-shi, Hokkaido JAPAN